At the Luna food factory on the south-east outskirts of Jeddah, Mashael Elghamdi sits at her computer in an artfully ripped AC/DC T-shirt and jeans.
The faint whirr of machines processing cans of beans, cream and evaporated milk can be heard over the sound of eight women typing and sometimes laughing.
A screensaver of a smiling Cameron Diaz gazes out from one corner of the room. This is an all-female office.
And because there is no need for the full-length abayas women are legally required to wear when interacting with men at work or in public, it is a riot of colour.
On the factory floor below, women in custom-made overalls on an all-female production line apply labels to cans. "All the women you see here do everything themselves," says supervisor Fatima Albasisi, who oversees 90 workers. A staircase and a corridor separate the female factory workers from their male counterparts, while the men-only offices are in a different building.
"If there's a problem with the machines, they can fix it," Albasisi adds. "If I could, I'd have a factory entirely run by women, no men at all. In my experience, women show up to work on time and make fewer mistakes."
The Luna food factory has been segregated since women began working as administrators here eight years ago. On the factory floor, the first 40 women started in 2013. "We work harder than the men," Elghamdi tells me, back in the office. "For me, it's better to be separate. If we work with the men, I have to wear my abaya and my niqab – it's less comfortable." She works in data entry, but also oversees worker safety for women. "It's easier for them to tell me what they need," she says. "It's hard to go to the men."
***
Not all offices or factories in Saudi Arabia are gender-segregated; it hasn't been a legal requirement since 2005. But many employers continue to separate the sexes, to balance the conservative values of a majority-male workforce with the country's apparent desire to get more women into work. As the physical barriers come down in other social settings, women-only workspaces are a symbol of both the future and the past; the question of whether they are a necessary step towards full female participation remains a murky one.
The kingdom wants a workforce that is 30% female. At the same time, it has cracked down on women's rights activists
Saudi women have long worked, but in very limited numbers. According to the World Bank, women's share of the labour force increased less than 7% between 1990 and 2018, now accounting for 16.8% of total workers. Saudi Arabia's own estimates put this figure higher, at 22%.
Saudi officials have promised to overhaul the economy, weaning it off its dependence on oil, which accounts for an estimated 50% of gross domestic product. Key to this is a pledge to boost domestic employment and, in particular, the percentage of women, which it wants to reach 30% by 2030. Last year, the kingdom outlined "steps towards women's full participation in society", such as allowing them to attend sports matches.
Saudi law specifies that women may work only in "fields suitable to their nature" and prohibits them from jobs considered "detrimental to health" or "likely to expose women to specific risks". In practice, these opaque rules are often interpreted by employers as a means of banning women from anything physically challenging. (At the Luna factory, tasks such as moving heavy boxes are restricted to the men's section.) A Women in the Workplace initiative, launched in January, requires that women be given separate spaces to work if they ask for them; prevents women from being left alone with male colleagues; and mandates that women can work as cleaners or in room service only at all-female hotels or resorts.
If Saudi officials are to be believed, greater reforms are on the horizon. Recent changes – such as repealing a ban on women driving – are intended to signify the kingdom's readiness to modernise. A 2016 directive also cut the power of the religious police, the Commission for the Promotion of Virtue and Prevention of Vice, who once watched over women's behaviour in public: they are now unable to arrest women for crimes such as mixing with men who are not family members, or to berate them for showing their bare hands. The contrasts can be jarring: a Nicki Minaj concert originally scheduled for this month in Jeddah drew the ire of Saudi women, angry at Minaj being able to perform – "to go and shake her ass… and then you tell me to go and wear the abaya", one Saudi woman said in a video posted to Twitter, viewed more than 37,000 times. Minaj has since cancelled her appearance, citing her support "for the rights of women, the LGBTQ community and freedom of expression".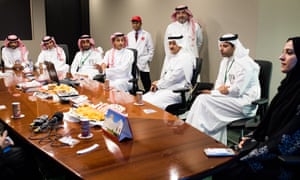 For Prince Mohammed bin Salman, heir to the throne and de facto ruler, known as MBS, women's participation is the embodiment of a new Saudi Arabia. The murder of journalist Jamal Khashoggi last year, and the subsequent cover-up, may have combusted much of the kingdom's carefully crafted image on the international stage. But MBS remains powerful, despite the CIA's assessment that he personally ordered Khashoggi's killing. His mantra of change filters down from on high; everyone I speak to, from street vendors to government officials, tells me, "Things are different now." They may not always be speaking freely – a female minder accompanies me on official appointments.
This is a country where society is shifting far more slowly than the official rhetoric. While the Women in the Workplace initiative demands equal pay for equal work, a hefty pay gap remains. Saudi women are paid, on average, 56% less than men; the kingdom ranked 145th out of 149 countries in last year's Global Gender Gap Index.
Long before Khashoggi's murder, there were brutal efforts to silence critics or anyone pushing for deeper reforms. According to Amnesty International, 104 people have been executed this year. The kingdom has conducted "an unprecedented crackdown on the women's rights movement", Human Rights Watch says – last year arresting and prosecuting 11 women who pushed for the right to drive before it was legal, or simply spoke out against laws restricting women. According to human rights groups and their families, the women were subjected to brutal torture, including waterboarding and electric shocks. Seven have been bailed this year; all await sentencing for "coordinated activity to undermine the security, stability and social peace of the kingdom".
Against this background, women-only spaces are a powerful visual signifier of change, positioning women as symbols of the new Saudi Arabia. But what do they mean to the women themselves, caught between the state's promises and their own daily struggles to navigate a conservative society?
***
An hour north of Jeddah on the Red Sea coast, diggers churn the sandy earth on a flat, barren plain beneath an unforgiving midday sun.
There is little more to see than the sparkling turquoise-tinted glass of an empty administrative office, but the site is touted as the future of female employment in the kingdom, an "oasis" designed for women. The complex will include 48 factories producing medical supplies, food and technology.
Saudi Arabia's Industrial Property Authority, or Modon, originally raised the idea of industrial parks exclusively for women in 2012, when it announced the development of a "women-only city" in Al-Ahsa, east of the capital, Riyadh. This "oasis", it said, was designed "for women workers in [an] environment and working conditions consistent with the privacy of women according to Islamic guidelines and regulations". In 2015, Modon announced a further four similar sites across the country. Little is publicly known about the success or conditions of the first; Modon resists my efforts to visit or speak to women working there.
---
---
---
Related Articles
The editorial staff of
Saudi Arabia Today
would like to give all of its readers from Gulf and Saudi Arabia and the whole world the opportunity to participate actively in the development of the website! If you have something interesting, fun, scandalous - just something worth to be seen from more people. Capture it and
share it in the Saudi Arabia Today
with a short text.
---
Do you have information you want to reach our readers?
---
You can subscribe to our Facebook, Twitter and Google pages or use our RSS feed channel to always read the most important news about Saudi Arabia, the Gulf and the world.
---
Sponsored Publications
---